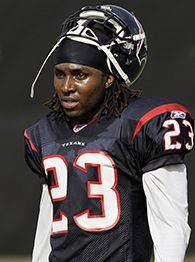 Some NFL players hold out and bitch to the press when they're unhappy with their contract. Dunta Robinson, who had the franchise tag slapped on him by the Houston Texans, expressed his displeasure in the coolest way possible.
Texans cornerback Dunta Robinson has been fined $25,000 for wearing shoes that read "Pay Me Rick" during Sunday's 24-7 loss to the New York Jets.

General manager Rick Smith fined Robinson for conduct detrimental to the team. Robinson confirmed the fine after practice today.
…
"That's okay, too, because I'm focused on football," Robinson said. "I'll pay whatever fines I'm given. I did it in fun. My teammates understood it was a joke. I didn't mean for it to become such a big deal. I didn't take it serious. My teammates didn't take it serious. I've moved on."
There's a picture of the shoes in the article, but it's pretty hard to see what they say on them. Like Robinson said, he wasn't making that big of a deal out of it, but the Texans should treat arguably one of their franchise players a little better than slapping the tag on him. He is getting about $10 million from the tag, but I bet he was looking for a little more job security. Hopefully they can work out a deal with him next off-season, because he was a great draft choice who made an immediate impact on the team, and he'll be in high demand if he hits free agency.