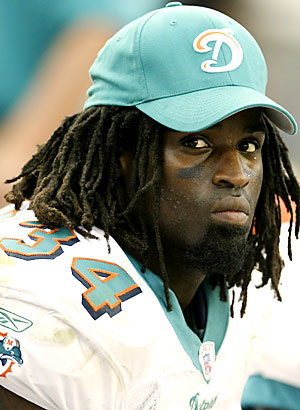 I apologize for the decreased amount of posts, but it's hard to find interesting news in the end of the football season besides injury reports and coordinators being shipped around to different teams. Here's something to try and make it up to you.
If you couldn't tell by the title, Miami Dolphins running back Ricky Williams is doing a documentary on himself for ESPN's "30 For 30″ series. I'll admit that I haven't watched any of the "30 For 30″ documentaries, mainly in spite of Bill Simmons for pushing it on everyone through his columns and tweets. I'd definitely watch this one, though.
Ricky Williams has bankrolled his own documentary that ESPN has picked up for its "30-30 series. It will air April 27th. And, unlike the "U" documentary that was well-done but over-hyped since it broke no new ground, "Run Ricky Run" should be worth the discussion.

"Uncomfortable," was what Williams called the documentary a couple of months ago when I asked him about it. "But honest."
Ricky Williams is one of the most interesting athletes that no one quite really knows about, and I'd be very eager to watch this autobiographical piece. I'm just surprised he didn't start his own documentary series called "30 for 3 Dimebags." Keep it on the down low, though. We can't have everyone watching it.